09/2019 - This month, BlackHole Lab launched two new products. The Educational Pack for microfabrication and microfluidics is composed of a station for microfabrication to get a fast process (less than 1 hour) without the use of solvents, using efficient and easy to use equipment and a microfluidics pack to perform experiments on the devices just freshly made. BlackHole Lab also offers a new station to work with paper microfluidics: The Xurography Kit. In this kit, both cutting and the use of a hydrophobic ink are available options for more microfabrication possibilities. The station can also be used to cut some adhesive and plastic films to create molds and chips with a simple design.
09/2019 - Elvesys happily presented microfluidic research and lung-on-chip technology during the "Science is Wonderful " exhibition in Brussels - the flagship event to highlight EU funded research with the aim to make science more accessible and easily understandable to the general public. The MSCA-Individual Fellow Dr. Lisa Muiznieks presented her project MECH-LoC by explaining biological processes through hands-on experiments and live demonstrations - the perfect opportunity to encourage children's interest in science!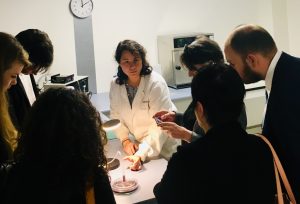 05/2019 - This month, representatives from the French parliament came to the Microfluidic Valley to learn how the technologies developed here help avoid animal testing and preserve the environment. It was a great pleasure to learn about the public interest in our projects and to explain our ideas.